HD107S is the upgraded version of APA102, PWM refresh rate >26kHz, Oscillator Frequency is 30MHz
Product Description
HD107S RGB LED chip is same with APA102 with one IC for the three-colors RGB diming control strip and string, this ic use the CMOS process to provide three-colors RGB LED output driver to adjust the output with 256 grey scale and 32 brightness adjustment, HD107S RGB LED diodes with 2 signal output way, one is clock , another is data, the clock and data are synchronized, so that the crystal cascade piece of output movement is synchronized.
Product Advantages
PWM refresh rate: >26kHz, Oscillator frequency: 30Mhz
CMOS process, low voltage, low consumption
Synchronization of two-way
Choose positive output or negative RGB three-color LED output
8 bit(256 level) color set, 5bit(32 level) brightness adjustment
Build-20ma constant current output
With self-detection signal build in support for continuous oscillation PWM
output, can be maintained static screen
Product Features
:
1. Environmental protection and safety: High-quality ultra-bright LED light-emitting diode, low power consumption, low heat generation, low voltage power supply, high safety and reliability.
2. Colors are rich and varied: full-color products after the preparation of controllers can be interchangeable in three and seven colors.
3. Long life: The average life is 50,000 hours.
4. Easy and free cutting and welding: You can cut and weld all kinds of lamp length according to the above cutting mark.
5. Softness: The flexible FPCB board is used as the base plate, which can be docked, bent, cut and fixed on the concave and convex surface at will.
6. Light and thin: suitable for installation in narrow space.
7. This soft light bar has a lot of changing effects. It can realize more than 100 different changing effects in the controller, such as flickering, chasing, jumping, clockwise running, counterclockwise running, monochrome running, discolored running, single chasing from beginning to end, running water, simulating lighting and so on.
Technical Parameters
Item No.: HD107S
LED Type: 5050 SMD
Voltage: DC5V
Color: RGB
Description: 256 grey scale, one clock cable, one data cable
Applications:
led pixel module
LED billboard, LED screen for Advertising
Architectural lighting for canopy, corridor, window and archway.
Back light or edge lighting for signage
DIY lights for home using
Path and contour marking
Decorative lights for holiday, event, show, exhibition
Specification for HD107S led strip:
Item no

LED Color

LED qty

PCB color

Voltage

Grey scale

Pixels

IC QTY

Power
Consumption

Waterproof method

IP Grade

Beam Angle

Dimens ions (mm) L*W*H

FG-HD107S30S5050NW

RGB
Full Color
30pcs
5050SMD
White/
Black

DC5V

256

30

30pcs

9W/M

Nonwaterproof

IP20

120°

5000*10*2.5

FG-HD107S30S5050EW

Silicon Glue waterproof

IP65

5000*10*4

FG-HD107S30S5050HW

Solicon tube waterproof

IP67

5000*12*4

FG-HD107S32S5050NW

RGB
Full Color
32pcs
5050SMD
White/
Black

DC5V

256

32

32pcs

10W/M

Nonwaterproof

IP20

120°

5000*12*2.5

FG-HD107S32S5050EW

Silicon Glue waterproof

IP65

5000*12*4

FG-HD107S32S5050HW

Solicon tube waterproof

IP67

5000*12*4

FG-HD107S48S5050NW

RGB
Full Color
48pcs
5050SMD
White/
Black

DC5V

256

48

48pcs

18W/M

Nonwaterproof

IP20

120°

5000*12*2.5

FG-HD107S48S5050EW

Silicon Glue waterproof

IP65

5000*12*4

FG-HD107S48S5050HW

Solicon tube waterproof

IP67

5000*12*4

FG-HD107S60S5050NW

RGB
Full Color
60pcs
5050SMD
White/
Black

DC5V

256

60

60pcs

18W/M

Nonwaterproof

IP20

120°

5000*12*2.5

FG-HD107S60S5050EW

Silicon Glue waterproof

IP65

5000*12*4

FG-HD107S60S5050HW

Solicon tube waterproof

IP67

5000*12*4

FG-HD107S72S5050NW

RGB
Full Color
72pcs
5050SMD
White/
Black

DC5V

256

72

72pcs

21.6W/M

Nonwaterproof

IP20

120°

5000*12*2.5

FG-HD107S72S5050EW

Silicon Glue waterproof

IP65

5000*12*4

FG-HD107S72S5050HW

Solicon tube waterproof

IP67

5000*12*4

FG-HD107S144S5050NW

RGB
Full Color
144pcs
5050SMD
White/
Black

DC5V

256

144

144pcs

42W/M

Nonwaterproof

IP20

120°

5000*12*2.5

FG-HD107S144S5050EW

Silicon Glue waterproof

IP65

5000*12*4

FG-HD107S144S5050HW

Solicon tube waterproof

IP67

5000*12*4
LED: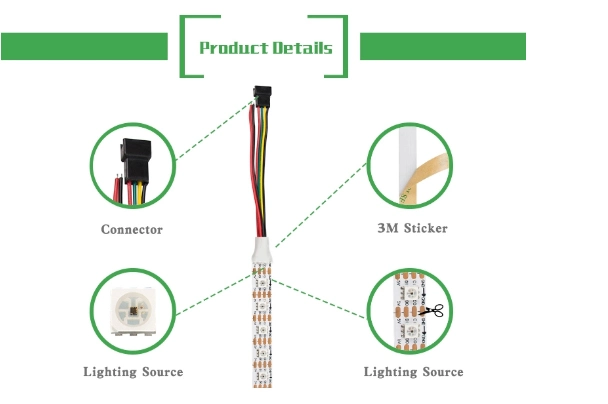 PCB type:

1. White PCB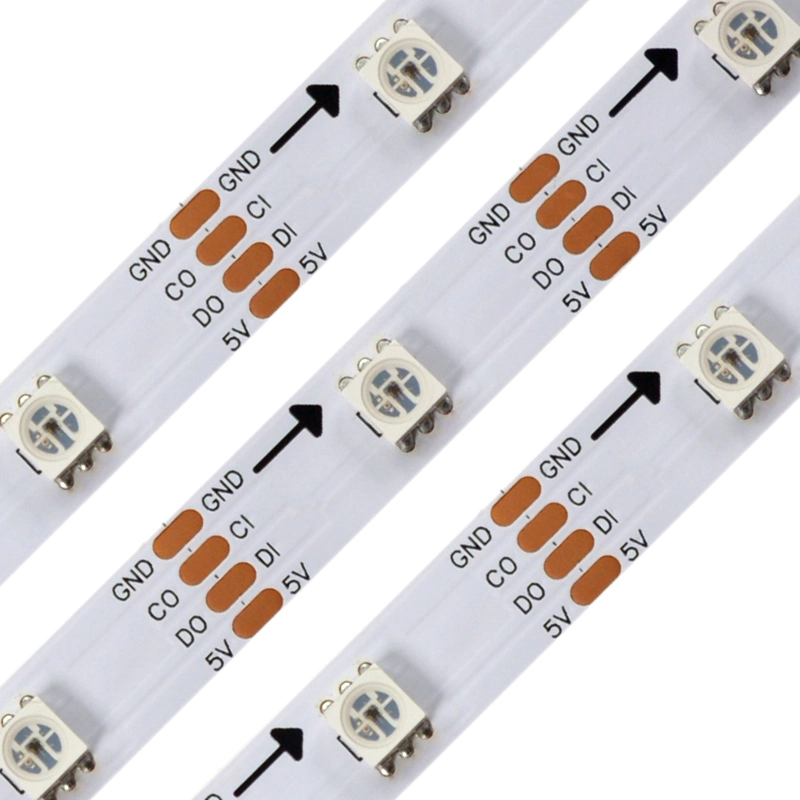 2. Black PCB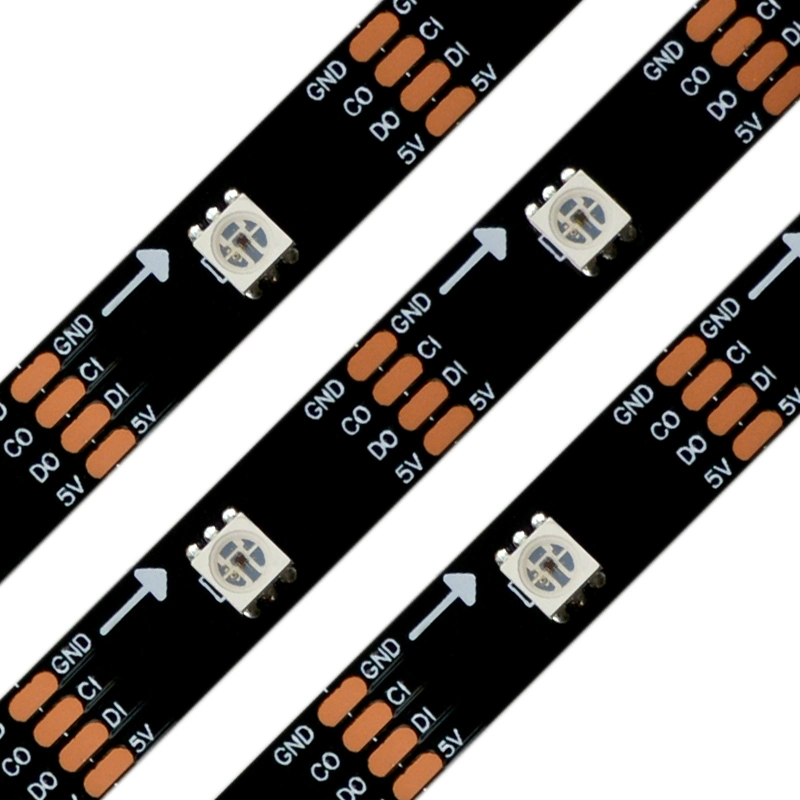 30led/M lighting effect: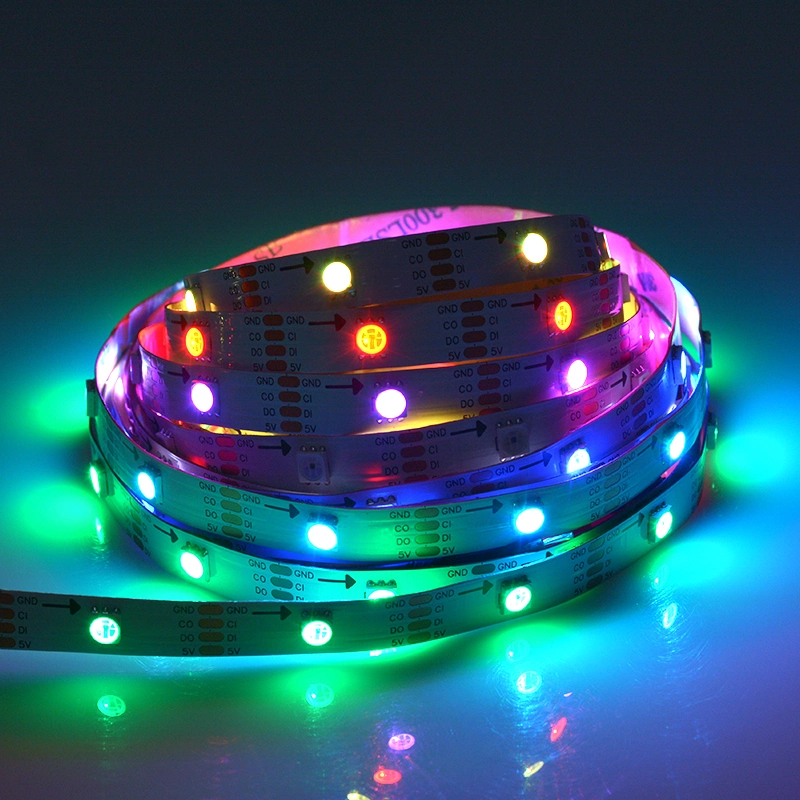 60led/M lighting effect: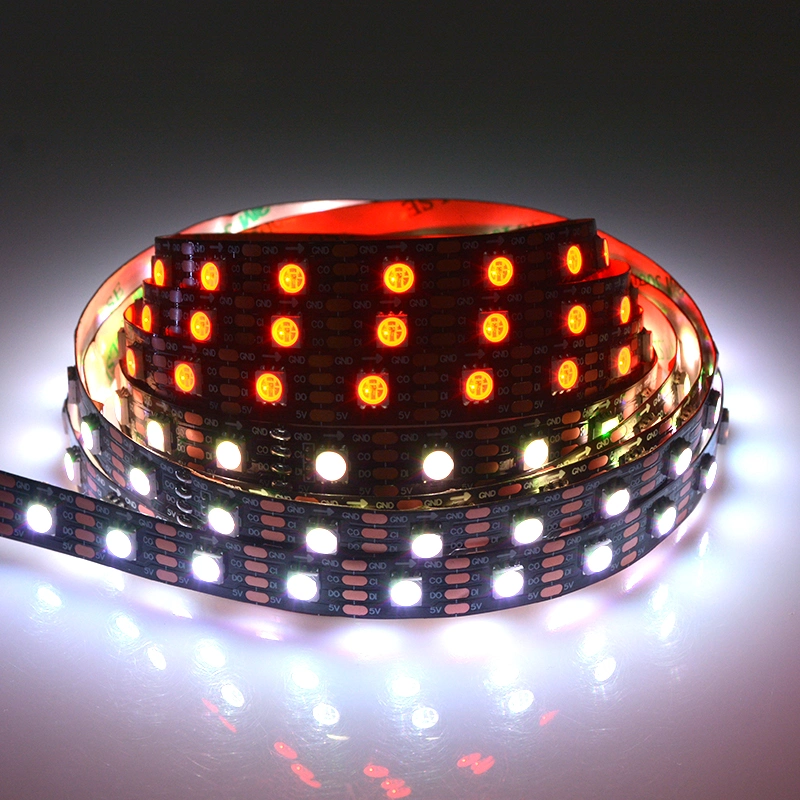 144led/M lighting effect: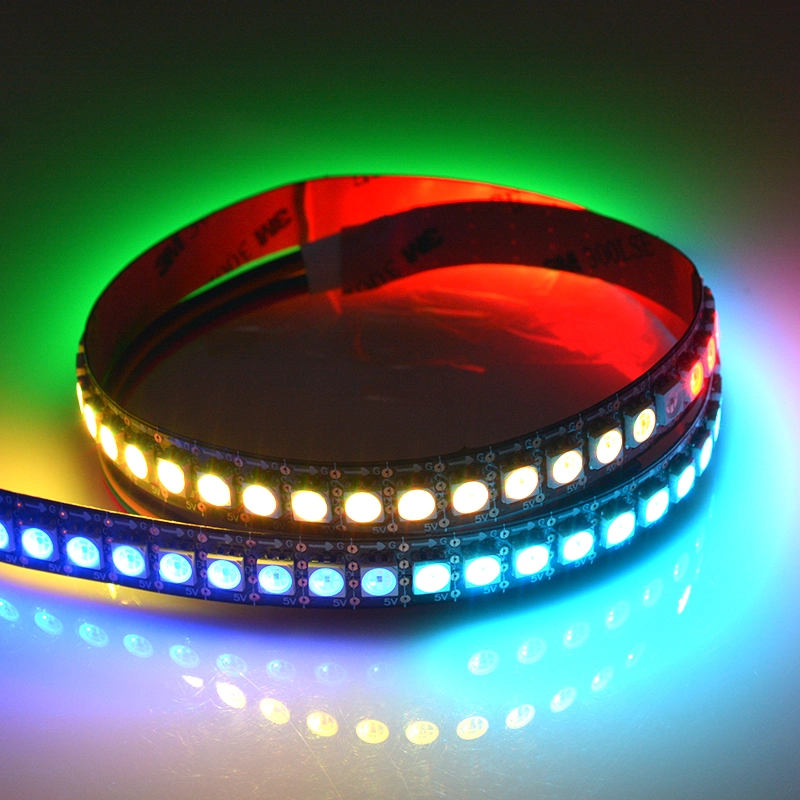 Package (Reel+Antistatic Bag):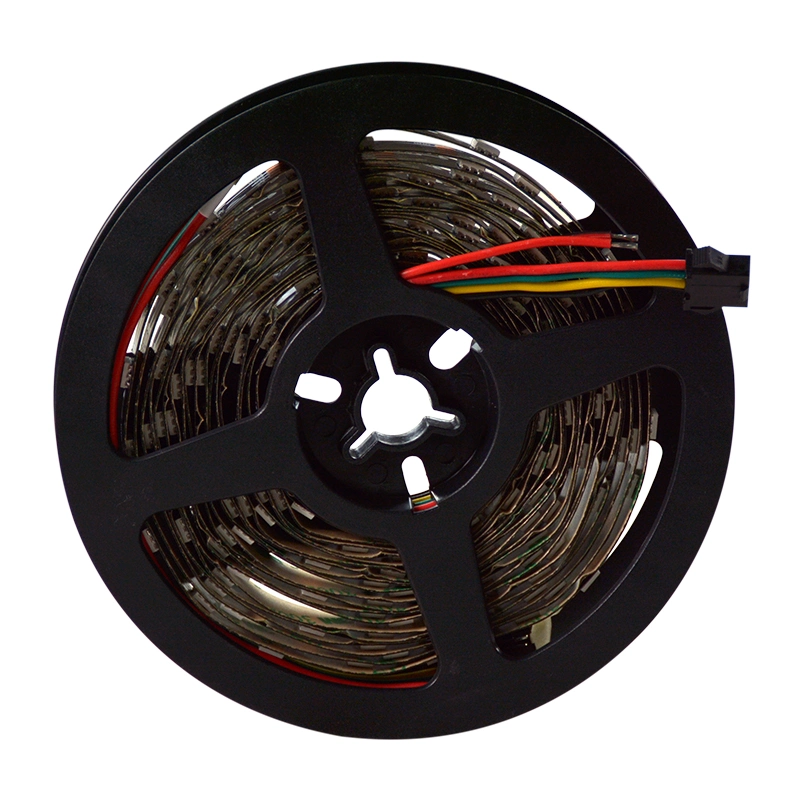 Our Services
1) ODM+OEM Service offered
2) Overseas Agency is opened
3) Provide full support in lighting solutions for customer request.
4) More quantity, more discount

Contact:
Ms. Eileen Liao
Welcome to contact us freely